The growth of genome data and computational requirements overwhelm the capacity of servers. Many institutions and the NIH are considering cloud computing services as a cost-effective alternative to scale up research. Privacy and security are major concerns when deploying cloud-based data analysis tools. In the past few years, secure computation methods have had significant performance improvement but it is still not clear if they are applicable to biomedical challenges involving big data. The goal of this challenge is to evaluate the performance of state-of-the-art methods that ensure rigorous data confidentiality during data analyses in a cloud environment.
​
Interested participants please first register through our registration page. Further announcement on the competition datasets will be sent to registered teams. Workshop registration will be added later.
Timeline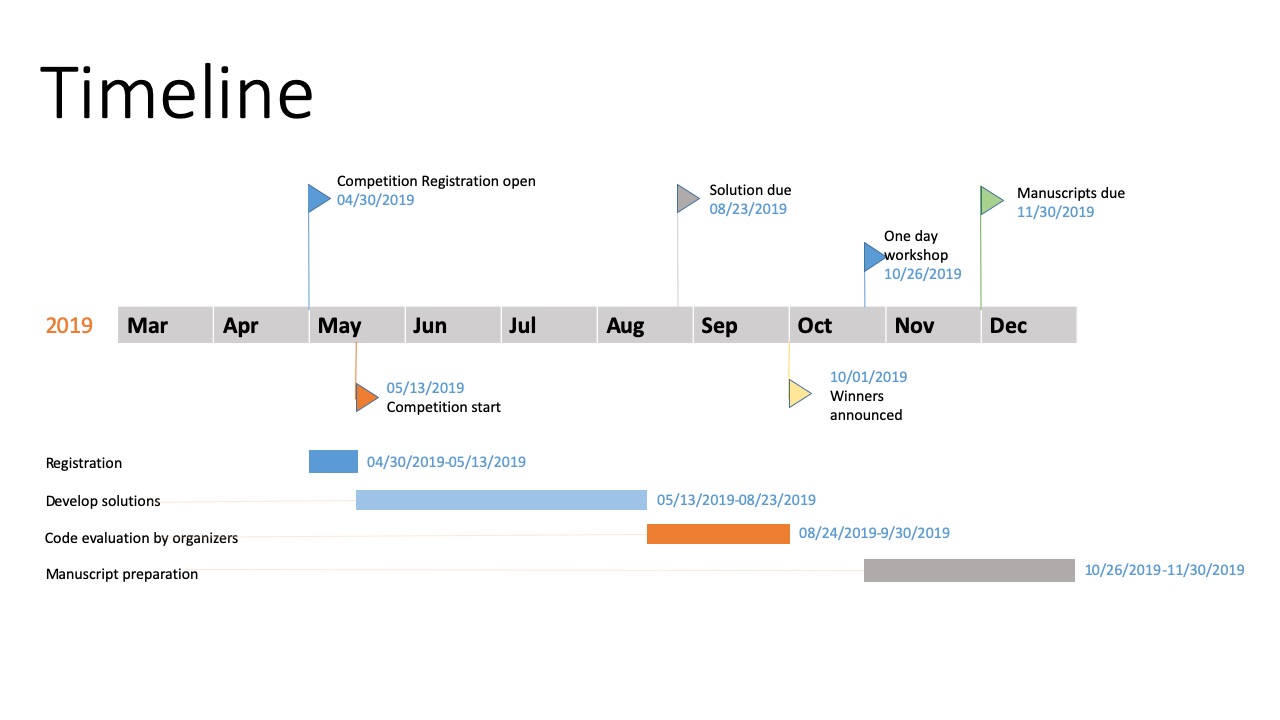 Important time points
03/25/2019 04/30/2019 Registration open / student travel award application open
04/30/2019 05/13/2019 Competition start (data release to registered teams)
08/16/2019 08/23/2019 Solutions due
10/01/2019 Winners announced
10/26/2019 One day workshop
11/30/2019 Workshop paper submission due
TBD Paper notification

Invitation letter for US VISA application
Travel awards for students
We particularly encourage applications from females, persons with disabilities, and from under-represented groups in science and technology. The number of travel awards and the amount of award depend on the availability of funds.
The selection criteria of travel awards are as follows:
All applicants must be a co-author of an accepted paper in our workshop.
All applicants must be full-time students registered toward an academic degree in related fields in a higher education institution.
All applicants must not receive other funding for attending the workshop.
An applicant who is awarded the travel grant must attend the workshop in person and submit a report after the workshop.
To apply for travel awards, the student must submit:
A recommendation letter from his/her advisor.
A resume with optional information related to under-representation in science and technology, gender, disabilities, etc.
One page statement of purpose for attending the workshop.
​We will start to accept applications on September 1. The application deadline and notification date will be September 7 and October 1, respectively​.
Workshop poster submission
The poster size is 36 inch by 48 inch. The poster size should not exceed 24 inch by 36 inch.
Workshop paper submission